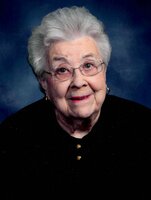 Jule "Judy" Ann Telmos
Telmos, Jule "Judy" Ann
Saginaw Township
Beloved mother, grandmother, and great grandmother passed away peacefully on Wednesday morning, December 1, 2021 at her residence at Wescourt Retirement Community, she was 97 years old. Jule Ann Marsrow was born on June 26, 1924 in Reese, Michigan to the late William and Alice (Waltz) Marsrow. She married Robert Telmos on October 16, 1948 in Reese, Michigan. He preceded her in death on December 18, 2002. She was a faithful and founding member of Christ the Good Shepherd Parish of Saginaw (St. Helen's Church) for many years. Jule loved playing cards and enjoyed being part of the Ladies Card Club with her sisters for over 75 years.
Surviving are one daughter, Sue Ellen (Gene) Sylvester; grandchildren, Jonathon (Melissa) Alfano of Arvada, Colorado, Peter Alfano of Saginaw, Michigan, Katie (Tyler) Waibel of Auburn, Michigan, and Andrew (Karissa) Sylvester of Las Vegas, Nevada; great-grandchildren, Lena and Gianna Alfano, Olivia, Austin, and Layla Waibel, and many special nieces and nephews.
Jule was preceded in death by one brother, William Marsrow; five sisters, Mae Fischer, Betty Courbier, Janet Marsrow, Louise Schluckbier, and Laverne Durussel.
Jule's family would like to thank the staff of Wescourt Retirement Community, Homestead Home Healthcare Services, and American Home Hospice Services for the wonderful care they provided to Jule.
FUNERAL SERVICE: A Funeral Liturgy will take place at 11:00 a.m. Tuesday, December 7, 2021 at Christ the Good Shepherd Parish of Saginaw (St. Helen Church), 2445 N. Charles St. Rev. Fr. Ronald J. Wagner will officiate. Rite of Committal to follow at Eastlawn Memorial Gardens.
VISITATION: Family and friends will gather at Deisler Funeral Home, 2233 Hemmeter Rd. (off State) on Monday, December 6, 2021 from 4:00 p.m. until 8:00 p.m. Visitation will continue at the church on Tuesday from 10:00 a.m. until the time of Mass.
MEMORIALS: In lieu of flowers, those planning an expression of sympathy may wish to consider memorials to Christ the Good Shepherd of Parish (St. Helen's).
Deisler Funeral Home is honored to serve the Telmos family. Please share your thoughts and memories with the family at the funeral home, church, or through www.deislerfuneralhome.com.