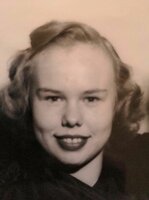 Yvonne Mae Garrett
Garrett, Yvonne Mae
Valparaiso, Indiana formerly of Saginaw, Michigan
Yvonne M. Garrett passed away peacefully at her daughter's home on Monday, November 15, 2021 surrounded by her family at the age of 87. Yvonne Christensen was born on May 9, 1934 in Cary, Wisconsin to the late Gilbert Oscar (Doc) and Gertrude Belle Christensen. She married her one and only, Fred E. Garrett, on June 22, 1952 in Beloit, Wisconsin. He preceded her in death on October 26, 2006. Yvonne was a faithful member of State Street United Methodist Church for over 60 years where she was very active helping with Sunday school for the children, vacation bible school and because she was unquestionably honest and trustworthy, she was entrusted each and every week with all of the money coming into the church. She counted it, kept track of who gave it for end-of-year giving statements and deposited it in the bank. She did this faithfully until she was 82 years old. In addition, Yvonne began working as an assistant for the Saginaw News Credit Union in 1971, eventually becoming the director taking over all responsibilities (HBIC).
Being a wife, mother, grandmother, and great grandmother were titles she wore proudly. She gave everything for her family and loved them unconditionally. "Grandma Yoni" taught us all how to love, say "sugarfoot" when something goes wrong and to accept everyone and embrace them with all their differences. She loved each and everyone of her friends and family for their uniqueness.
Yvonne was a beloved friend to many. Over her lifetime she enjoyed playing cards and games, watching movies, traveling, sports, in her youth riding horses and was very good at square dancing! She had a quick wit and laughed with anyone and everyone. She was blessed with an incredible mind and up until her last words could make us laugh with her smart comments. She was sweet, gave the BEST hugs and had a big beautiful smile. The world has been a better place because of her and those of us who loved her find great peace, joy, and sorrow at her passing. It is comforting to know that she lives on in us.
Yvonne is survived by her daughters and son: Dianne (Brent) Langston, Wanatah, IN, Deborah (Roger) Weiss, Higgins Lake, MI, Daniel (Anna) Garrett, Asheville, NC; seven grandchildren: Robert G. Wright, Melissa (Steve) Pearce, Caroline (Brett) Hacker, Jennifer (Evan) Hulighan, Stephanie (Mike) Secker, Joshua (Samantha) Weiss, Aaron (Stephanie) Weiss; fourteen great-grandchildren: Peyton, Kennedy, Benjamin, Elliott, Jordan, Dianne, Julia, Garrett, Chloe, Lilly, Riley, Andrew, Anna Katherine, Logan and one on the way. She is also survived by one brother, Myron (Ruthann) Christensen and sisters-in-law Joanne Garrett and Beverly Christensen. She is also survived by her precious friend, Ellen Draper.
Yvonne was preceded in death by her parents, husband, and brother, Howard.
VISITATION: Family and friends are welcome to gather at the funeral home on Saturday, December 4, 2021 from 10:00 a.m. until the time of service.
FUNERAL: A funeral service for Yvonne will be held at 11:00 a.m. Saturday, December 4, 2021 at Deisler Funeral Home, 2233 Hemmeter Rd. (off State), Saginaw, Michigan 48603. Pastor Joy Barrett will officiate with entombment to follow at Chapel Hill Mausoleum.
MEMORIALS: Those planning an expression of sympathy may wish to consider a donation to either the Heart of Saginaw, https://heartofsaginaw.wixsite.com/heart-of-saginaw/donate or to Pines Village, a non-profit Retirement Community in Valparaiso, Indiana, that celebrates life by enriching the lives of older adults, 3303 Pines Village Circle Valparaiso, IN, 46383 or a.page@pinesvillage.org. Please share your thoughts and memories with the family at the funeral home or through www.DeislerFuneralHome.com