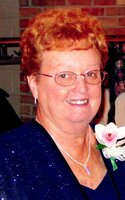 Josephine May Franks
Franks, Josephine May age 91, passed away Saturday, November 6, 2021 at Symphony Tri-Cities, Bay City, MI. Josephine was born April 30, 1930 in Grand Rapids, MI the daughter of Gerald and Mary (Strobel) Cummings. She worked several years for Great Lakes Bank Corp before retiring. Josephine enjoyed sitting and relaxing near her swimming pool, going to sporting events and traveling; especially the trips she took with her family and friends to Branson, MO and Florida. She also took pleasure in the time spent with the extended family she shared with longtime companion Robert (Bob) Roe who predeceased her.
Josephine is survived by her children; Sheila (Herb) Vasold, Saginaw, Steve (Rita) Franks, Saginaw, Brian (Lori) Franks, Freeland. She also leaves behind eight grandchildren; Michael Vasold, Jason Vasold, Sara Darling, Brian Lepley, Andrew Franks, Adam Lepley, Christopher Franks, Matthew Franks as well as eight great-grandchildren and a sister; Ruth (Bernie) Rapp. Besides her parents, Josephine was preceded in death by three siblings; Marie Kornoelje, Phyllis Scott and Gerald Cummings.
Funeral: A funeral service for Josephine will take place on Thursday, November 11, 2021 at 12:00 PM from Deisler Funeral Home, 2233 Hemmeter Rd. (off State).
VISITATION: Family and friends are welcome to gather at the funeral home from 11:00 AM until the time of service.
Deisler is honored to be serving the Franks family; to share your thoughts and memories please visit the funeral home or go to www.DeislerFuneralHome.com