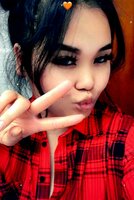 KaoJennifer Ab Yang
KaoJennifer "Jenni" Ab Yang passed away at home on November 1, 2021. She was born on January 30, 1995 in San Bernardino, CA to Yee Vang and Xang Yang. At the age of 13 she was adopted by Luree' McKinney. She became a member of True Believers Outreach Ministries. There she was a part of the choir and a co-captain of the "Mighty Movers" praise dance team. She graduated from Arthur Hill High School in 2014 and went on to receive an Associate's degree from Delta College. She loved to play soccer, listen to music, draw, take selfies, and to spend time with her family and friends.
Jennifer, known to many as Jenni, was survived by her dad Xang Yang of Pontiac, MI, her adopted mother Luree McKinney of Saginaw, MI, and siblings Joshua Yang of Merrill, MI, Cheng Yang of Flint, MI, Meng and Neng Zoo Yang both of Pontiac, MI, Mary, Pang, and Kevin Yang of Saginaw, MI, Dr. Veneshia McKinney (Patrick) Whitson of Tuscant, AZ, Shanequa and Moty (Valentina) McKinney, Alyessa Nichols, and Shaun Washington all of Saginaw, MI. She also leaves to cherish her memory, godson Legacy Currin of Saginaw, MI, nieces Kierra, Kehlani and Kelis Whitson of Tuscant, AZ, Steve'Aniece Griffen and Journey McKinney both of Saginaw, MI, nephews Jamel Mckinney, Shaun Jr. and Zion Washington all of Saginaw, MI, aunts Reller (James) Bradley, Pastor Shelia M. Washington, and Sandra (Danny) Burial all of Saginaw, MI, uncles Peter Yang of Birch Run, MI, Raymond Richardson, Arthur (Stephanie) Richardson, and Ronald Richardson. Also leaving to cherish her is a host of other aunts, uncles and cousins. Including special friends Miguel Mireles, D'Andra Currin, Sharmayne Hollis, Jasmine Colier, India White, Yvete Bledson, Dexter Rivers, Clara Bryant Newby, and MyLinda Larkin all of Saginaw, MI. She was preceded in death by her birth mother Yee Vang, sister Lashonda McKinney and uncle Edward Richardson.
FUNERAL: A Memorial Service for Jenni will take place at 11:00 AM Friday, November 12, 2021 from Deisler Funeral Home, 2233 Hemmeter Rd. (off State), Saginaw, MI 48603.
VISITATION: Family and friends are welcome to gather at the funeral home Friday from 10:00 AM until the time of service.
MEMORIALS: Those planning a memorial contribution are asked to consider the wishes of the Yang and McKinney family; c/o Luree' McKinney.