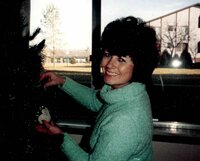 Eileen Ann Cooley
Cooley, Eileen Ann
Saginaw, Michigan
Our loving wife, mother, grandmother and sister passed away on Monday, November 1, 2021 at Ascension St. Mary's Hospital. She was 81 years old. Eileen Ann Draheim was born on December 6, 1939 in Grand Rapids, Michigan to the late Walter E. and Helen (Ellingsen) Draheim.
Eileen worked at Frankenmuth Mutual Insurance Agency for over 30 years. This is where she met the love of her life, Michael Anthony Cooley. They were married on May 19, 1986 in Las Vegas. Eileen and Mike enjoyed many trips to Vegas taking in many shows and enjoying many special moments. Her second favorite man to Mike was Gordie Howe. Eileen was an avid Red Wings fan, and never missed an opportunity to cheer them to a victory. The Tigers and the Spartans were also part of Eileen's sports enthusiasm. Her kind and generous spirit overflowed to the love of dogs, and she was fortunate to have several special dogs in her life over her years. In her later years, Eileen could be found watching the Hallmark Channel very regularly, especially with Christmas being Eileen's favorite holiday. Eileen was fascinated with trains, airplanes, and hot air balloons --- and thoroughly appreciated her hot air balloon ride. Second to air balloons, were her pontoon rides which could never be too long. Family and friends were very special to Eileen, and she was very dedicated to capturing those special memories with a picture. She especially enjoyed taking pictures of her grandchildren, who brought her so much joy and pride.
Eileen is survived by her husband, Mike A. Cooley; daughter, Laura (Scott) Bierlein; son, Mike Pyne; step-daughters: Amy Adams and Tracy (Shannon) Adams; grandchildren: Samantha and Valerie Bierlein, Hannah Adams, Caleb Cavazos and Grace Adams; sister, Sue Thompson; and a nephew, Christian Draheim.
SERVICE: A memorial service for Eileen will be held at 12:30 p.m. Friday, November 5, 2021 at the Deisler Funeral Home, 2233 Hemmeter Rd. (off State). Hank Messing will officiate. Private burial of Eileen's cremated remains will be at Great Lakes National Cemetery.
VISITATION: Family and friends will gather at the funeral home on Friday from 9:30 a.m. until the time of service at 12:30 p.m, followed by a luncheon at Trillium Banquet Center (next to Timbers), 6415 State St, Saginaw.
MEMORIALS: Those planning an expression of sympathy may wish to consider a memorial contribution to Amazing Grace Animal Rescue. Please share your thoughts and memories with the family at the funeral home or through www.DeislerFuneralHome.com