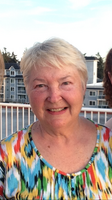 Karen Rose Zwingman
Karen Rose Zwingman
Saginaw, Michigan
Loving wife, mother, grandmother and sister passed away Sunday, October 24, 2021 at age 79 years. Daughter of the late Sanford B. and Jane (Barger) Dawson, Karen was born July 20th, 1942 in Greenville, Tennessee. She married Dr. Russell W. Zwingman on September 23, 1967, and he predeceased her on December 11, 1992.
An active member of First United Methodist Church for over 50 years serving on many church committees she was a member of the bell choir for over 25 years. Karen supported many groups in Saginaw over the years, The Saginaw Symphony Women, International Society People to People and the Merry Wives group. A proud member of the Daughters of the American Revolution (DAR), she loved sharing her research into genealogy with her family.
She loved to travel with friends heading to Saginaw's sister city in Japan, China and Italy among others.
Karen leaves a daughter, Dr. Theresa A. (Michael J. Murphy) Zwingman; a son, Dr. David R. (Susie Humphrey) Zwingman; four grandchildren: Rory, Tomie, and Maximilian Murphy of Seattle, WA and Alixanne Zwingman of Saginaw; brothers: Donald (Elaine) Dawson, Woodinville, WA; Ronald (Betty) Dawson, Johnson City, TN; Thomas Dawson, Hudson, FL; many nieces, nephews and many close friends who share the loss.
Karen was also preceded in death by her brother and sisters-in-law: Jess (Sharon) Dawson and Margie Dawson.
FUNERAL: A funeral service for Karen will be held at 11:00 a.m. Saturday, November 6, 2021 at First United Methodist Church, 4790 Gratiot Road, Saginaw, MI 48638. Committal payers and entombment will follow at Roselawn Memorial Gardens.
VISITATION: Family and friends will gather at the Deisler Funeral Home, 2233 Hemmeter Road (off State) on Friday, November 5, 2021 from 4:00 p.m. until 7:00 p.m. Karen will lie in state at church on Saturday from 10:00 a.m. until the time of service. Please share your thoughts and memories with the family at the funeral home, church or through www.DeislerFuneralHome.com