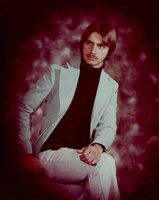 David Michael Benkert
Benkert, David Michael
Saginaw, Michigan
Our beloved husband, son, brother, uncle, and dear friend passed away on Saturday, October 9, 2021 at Covenant HealthCare-Cooper with his family by his side. He was 62 years old.
David Michael Benkert was born in Saginaw on March 7, 1959 to Carl and Joyce (Urban) Benkert. He grew up on his family farm in Spaulding Township and had an instinctive strong work ethic from a very young age.
He was a graduate of Bridgeport High School class of 1977. Following graduation, David was a dedicated employee of General Motors where he operated a forklift. He then began enjoying his retirement in 2006.
He met the love of his life, Margo Giltrop, through mutual friends and they were married in 1982. David enjoyed spending time with Margo by taking scenic car rides or just being together at home. He took great pride in maintaining their home and yard, as well as caring for their pet cats, Bugsy & Fraggle Rock.
David is survived by his wife, Margo; parents Carl and Joyce Benkert; siblings: Kathy (John Voise) Benkert, Joni St. Charles, and Christine (Kris Pool) Pool; Brother-in-law, James Giltrop; sister-in-law, Julia (Charles) Keinath; as well as many nieces, nephews, extended family and friends.
FUNERAL: A private funeral service for David will be held at the Deisler Funeral Home, 2233 Hemmeter Rd., Saginaw, MI 48603. Private burial will follow at Spaulding Township Cemetery. Online messages of condolence are welcome at www.deislerfuneralhome.com Donations gifted in David's memory may be made to Pet Angel Adoption & Rescue Inc. Pet Angel Adoption & Rescue