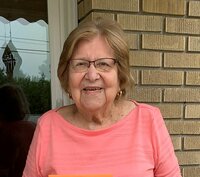 Victoria "Tia B" Kapp
Kapp, Victoria
Saginaw, Michigan
Our loving mother, grandmother, great grandmother, sister, aunt, compassionate friend and matriarch of the neighborhood passed away on Monday, October 4, 2021 at Covenant HealthCare – Cooper. She was 93 years old. Victoria Mendoza was born on July 28, 1928 in San Antonio, Texas to the late Jorge and Macedonia (Bazan) Mendoza. She married Cosme Kapp on January 16, 1949 in San Antonio, Texas. They started their family in Texas and settled in Saginaw in 1951. Victoria was a devout Christian woman instilling within her children the love of Christ. She was a member of Sacred Heart Catholic Church and then St. Joseph Catholic Church. Her compassionate spirit guided many as she was an adopted mother, great listener and confidant. Victoria's talents are too many to list, but she will be forever remembered for her ability to make a fabulous home cooked meal, mending, quilting, top notch word search Queen, playing Mexican bingo, Uno, listening to music, dancing, and was fluent in Spanish and English. She loved to watch novelas late into the night, keeping up with current news and was an avid Michigan and Michigan State football and basketball fan.
Victoria's infectious smile, hearty laugh and quick wit will be deeply missed by her seven children: Gloria Kapp, George Kapp, Vicki (Carlos) Salinas, Martha Kapp, Genevieve Kapp, Gene (Pauline) Kapp and Joseph Kapp; daughter-in-law, Roberta Kapp; grandchildren: Angelo, Brittany, Mariza, Reuben (fiancée, Cindy), Maricela, Jamie (Shay), Gregory (Megan), Mia Gabriella, Marcus (Jordin), Brenden, Alyssa and Daniel; 13 great-grandchildren and one more expected in November; two sisters: Benita (Chuck) Murray and Yolanda "Lonnie" (Tom) Bork; her beloved dog, Karly; many nieces, nephews, extended family and dear friends. Throughout Victoria's later years, she shared her love as a foster grandparent with many children at Stone School.
Victoria was preceded in death by her husband, Cosme on April 18, 1998; infant son, Jesse Kapp; son, Richard Kapp; sister, Mary-Lou Mason and brother, Joseph Hernandez.
FUNERAL: Due to the current health crisis a private funeral liturgy for Victoria will be held at St. Joseph Catholic Church. Rev. Fr. Francis Voris, OFMCap will officiate with private burial to follow at Mt. Olivet Cemetery.
VISITATION: A time for guests to pay their respects and pray will be available to the public on Sunday, October 10, 2021 from 4:00 p.m. until 6:00 p.m. at the Deisler Funeral Home, 2233 Hemmeter Rd. (off State), Saginaw, MI 48603. Due to the concerns surrounding the current pandemic and Covid 19 restrictions, the family will not be present during the public visitation time.
MEMORIALS: In lieu of flowers, those planning an expression of sympathy may wish to consider a donation to St. Joseph Catholic Church. The Deisler Funeral Home is honored to serve the Kapp family. Please share your thoughts and memories with the family at www.DeislerFuneralHome.com