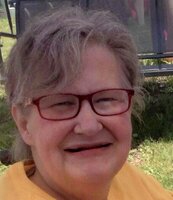 Luann Majorie Eckhardt
Eckhardt, Luann Marjorie age 51. Our darling precious daughter was called home by the angels on Monday, October 4, 2021. Luann was born June 11, 1970 in Saginaw, Michigan the daughter of Alvin and Marjorie (Fick) Clarke. She enjoyed listening to country music, watching Tennis and game shows on television, shopping with her mother, outings with her family and being at Sugar Springs Lake during the summer months. She also enjoyed living in Florida for several years before moving back to Michigan. But most of all she loved spending time with her family; especially her sons and grandchildren.
Luann is survived her two sons; Cohby Jacob (Rita) Eckhardt and Matthew Todd Eckhardt, three granddaughters; Ava Rose, Stella Rose and Via Rose, parents; Alvin and Marjorie Clarke, sister and two brothers; Cheryl (Joe) Humpert, Joseph (Kathy) Clarke and Andrew Clarke, seven nieces and nephews; Joseph III, Autumn Rose and Joshua Humpert, Stephanie, Andrew, Tory and Mitchell Jr. Clarke, special friends; Jeanette Dupuis and father of her children, Jeff Eckhardt and several aunts and uncles.
FUNERAL: Funeral service for Luann will take place at Deisler Funeral Home, 2233 Hemmeter Rd. Saginaw, MI, Saturday, October 9, 2021 at 3:00 PM with Thane Nelson to officiate. In keeping with Luann's wishes cremation will follow the service.
VISITATION: Friends are welcome to visit the family on Saturday, October 9, 2021 at Deisler Funeral Home from 1:00PM until the time of service.
MEMORIALS: Those planning a memorial contribution are asked to consider "Wishes of the Family".