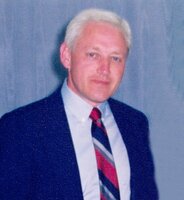 Lyle Duane Palaghe
Palaghe, Lyle Duane
Saginaw Twp., Michigan
Our compassionate, fun loving husband, dad, papa, brother, uncle and friend passed away peacefully on Saturday, September 18, 2021 at his home, surrounded by his loving family. He was 82 years old. Lyle Duane Palaghe was born on July 3, 1939 in Lapeer to the late Nicholas and Madeline (White) Palaghe. At the age of 2, Lyle's father passed away and his step-father, Lloyd Dickerson, became a father to him. Lyle enjoyed many childhood memories with his siblings: Raymond, Norma, Beverly and David. He graduated from Vassar High School. Lyle's lively spirit was noticed by Sharon Lynn Ward, and they married on January 24, 1959. His career started at an early age working for Kroger. Because of his hard work and desire to grow within the company, Lyle became the store manager. From there his career lead him to be a Representative for Foodland and then Super Value Foods where he would oversee 25 stores in the Detroit area. He retired from Super Value Foods after 30 years of dedicated service. Throughout his life, Lyle never lost focus of his Lord and Savior. He served as a Deacon at Faith Baptist Church for over 30 years, and in that last few years became a member of Immanuel Bible Church, Saginaw where he enjoyed going to lunch after church with friends from the church. His faith based life would radiate to all of those around him. Lyle was often found having long conversations with neighbors as he worked in his yard bonding over landscaping and their love for animals. He also was a mentor to several dear friends with special needs. In his spare time, Lyle took great pride in rehabbing homes throughout Saginaw, Boyne City and Tawas area. He spent 10 years in Boyne City where he enjoyed riding bikes, sledding with his grandkids, golfing, and having family and friends over. The last seven years he spent on Lake Huron in Tawas where he enjoyed watching freighters go by, moonbeams, and feeding the ducks and squirrels. Everywhere he went he loved his neighbors. He also enjoyed playing golf with his brother Ray and his best friend of thirty years, Terry Blatz. Lyle had the sweet enjoyment of hitting a hole in one. Lyle was a supporter of St. Jude's Hospital, The Saginaw City Rescue Mission, Wounded Warriors, and Pet Angel of Frankenmuth.
Lyle's family would like to extend a special heartfelt thank you to Cindi Braley, Debbie Crosby, Jackie Braley, Andy Henthorn, his nurse Tony, Ascension St. Mary's Neuro Department and Compassus Hospice for their unbelievable love, care, and support they provided to Lyle. They are all heroes to our family. Also a heartfelt thank you to Immanuel Bible Church, family and friends for their love and prayers.
Lyle's caring and devoted spirit will be deeply missed by his wife, Sharon Palaghe; children: Jeffery (Christine) Palaghe, Steven Palaghe and Kristie (Robert) Hohn; four grandchildren: Dustin Palaghe, Justin Pratt, Ethan (Mallory) Hohn and Caitlin Hohn; siblings: Raymond (Linda) Dickerson, Norma (Robert) Farnham and Beverly Hutchinson; many nieces, nephews, extended family and friends.
Lyle was greeted in heaven by his Lord; parents: Nicholas "Nick" Palaghe, Madeline Palaghe Dickerson and Lloyd Dickerson; brother, David Dickerson; and many cats and dogs that have went before him.
MEMORIAL SERVICE: Family and friends are invited to celebrate Lyle's life at 11:00 a.m. on Friday, September 24, 2021 at Immanuel Bible Church, 5433 N Center Rd., Saginaw, MI 48604. Pastor Mark Hazen will officiate. The family will visit with friends from 10:00 a.m. until the time of service at the church.
MEMORIALS: In lieu of flowers, those planning an expression of sympathy may wish to consider a donation to Ascension St. Mary's Field Neurosciences Institute or the Saginaw Rescue Mission. Arrangements have been entrusted to Deisler Funeral Home, 2233 Hemmeter Rd. (off State) Saginaw, MI. Please share your thoughts and memories with the family at the church or through www.DeislerFuneralHome.com