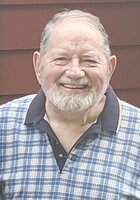 Rodney Harold Kwaiser
Kwaiser, Rodney H. age 76 passed away Tuesday, September 7, 2021 at Covenant Healthcare-Cooper. Rodney was born November 10, 1944 in Saginaw, Michigan the son of Harold and Lela (Atwater) Kwaiser. He graduated from Arthur Hill High School. Rodney proudly served his country for four years in the United States Air Force. Shortly after being discharged from the service, Rodney went to work for 3M Corporation as a Skilled Technician. He worked for over 25 years before his retirement.
Rodney was a longtime member of Hopevale Church where he served many facets such as an usher and a missionary; local and abroad. He made 4 trips to Zimbabwe helping build a Community Center. Rodney was the founder of Rod Stock. He had a love of live music and riding his motorcycle. But most of all he loved his family and friends and would do anything for them. Rodney lived to serve people in need. He will be dearly missed.
Rodney is survived by his children; Christine (Jeff) Haner and Daniel (Janet) Kwaiser, five grandchildren; Matthew and Nicholas Haner, Jaime MacDonald, William (Amber) MacDonald and Danielle Kwaiser, four great-grandchildren; Scarlette Haner, Emily, Jordan and Lucas MacDonald, mother in-law; Betty Sharrer, several nieces and nephews and many dear friends. Rodney was preceded in death by his parents and a brother Eugene.
FUNERAL: A Memorial Service for Rodney will take place Saturday, September 18, 2021 at 11:00 AM from Hopevale Church, 4873 N. Center Dr. Saginaw, MI 48603. Pastor Daniel Davis to officiate. Military honors will follow the service at the church under the auspices of the United States Air Force and VFW Post #1859.
VISITATION: Family and friends are welcome to gather at Hopevale Church on Saturday from 9:00 AM to the time of service.
MEMORIALS: In lieu of flowers, those planning a memorial contribution are asked to consider Hopevale Church, Share Hope Fund; 5360 Shattuck Rd. Saginaw, MI 48603 or by visiting: www.Hopevale.org/give
Deisler Funeral Home is honored to be serving the Kwaiser family; To share an online condolence please visit www.DeislerFuneralHome.com