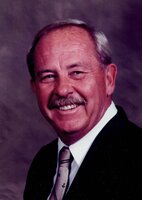 Robert Bruce "Bob" Grindahl
Grindahl, Robert "Bob" "The Captain"
Saginaw Twp., Michigan
Our "Captain" loving husband, wonderful father, proud grandfather, brother, uncle and dear friend passed away peacefully at his home on Sunday, August 15, 2021. He was 90 years old. Robert Bruce Grindahl was born on July 13, 1931 in Saginaw to the late Marensius "Mac" and Martha (Hansen) Grindahl, the second of four children. He was baptized at Grace Lutheran Church in downtown Saginaw, on August 16, 1931. Bob graduated from Saginaw High School. He proudly served his country as a Sargent with the United States Air Force during the Korean War. Following his service, he attended the University of Michigan. Bob worked as a Metallurgical Engineer for General Motors, Central Foundry Division. Between 1981 and 1984, he worked for General Motors Overseas helping to build an Engine Plant in Saltillo, Mexico. Bob continued his career with the Pontiac Motor Division, retiring after 37 years of service. He met his wife, Linda B. Williams through the Saginaw Bay Yacht Racing Association. They were married on May 23, 1981 at Our Saviour Lutheran Church, where Bob was a faithful member, serving on committees and church council. After retirement, he and Linda spent summers aboard the "Narcisa" navigating the waters of the North Channel of Lake Huron. He stayed active by honing his skills as a gourmet chef, playing Slow Puck Hockey for Larry's Lounge, throwing darts on a Dart League, and his quiet time was spent with a book in his hands. The Captain was at the helm of his journey through life, with his Savior as his guide. In Bob's words it was time to, "Haul the anchor and set sail."
Bob will be dearly missed by his wife, Linda; his loving children: Leslie (Jack Woodyard) Meadows of Akron, Ohio and Eric J. (Mary) Grindahl of Milan, Ohio; grandson, Nathan Meadows of Akron, OH; granddaughter, Bethany (Nick) Knapp of Zeeland, MI; sisters: Martha Ann Grindahl of San Jose, CA and Mary Bratun of Waterford, MI; and many nieces, nephews, extended family and dear friends.
Bob was preceded in death by his parents; his brother, George Grindahl; brother-in-law, Jack Bratun.
SERVICE: In keeping with Bob's wishes cremation has taken place and a memorial service for Bob will be held at a later date at Our Saviour Lutheran Church.
MEMORIALS: Those planning an expression of sympathy may wish to consider a donation to Our Saviour Lutheran Church, Saginaw. Arrangements have been entrusted to Deisler Funeral Home, 2233 Hemmeter Rd. (off State), Saginaw, MI 48603. Please share your thoughts and memories with the family through www.DeislerFuneralHome.com