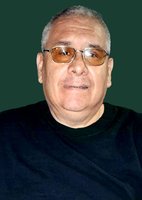 Roland Andrew Vela Sr.
Vela, Roland Andrew, Sr.
Carrollton Township
Loving husband, father, grandfather, son, and brother passed away on Thursday evening, June 3, 2021 at Covenant Healthcare in Saginaw. He was 57 years old. Roland Andrew Vela Sr. was born on February 18, 1964 in Saginaw, Michigan to Reynaldo "Rey" and Maria "Lupe" (Trejo) Vela. He married Ruth Figueroa on October 25, 1986 at First Assembly of God in Saginaw. Roland graduated from Ruben Daniels High School in 1982 and attended the Saginaw Career Complex, earning a certificate in appliance repair. He was employed by Sears as an appliance repairman, retiring after 20 years of service. Roland was a member of Old Town Christian Outreach for many years.
He loved going for drives and taking trips up north. Roland also liked barbequing and spending time outdoors while playing with his grandchildren. He was an avid swimmer and enjoyed swimming throughout his life. Roland was handy with taking things apart and fixing them. But, what he really loved most was spending time with his children, especially his grandchildren.
Surviving are his wife of 35 years, Ruth Vela; children, Priscilla Vela, Roland (Alexis) Vela Jr., and Victoria Vela; grandchildren, Velencia, Roland III, Celestina, Calina, Nico, Vera, Reign, Dominique, and Laila; parents, Reynaldo "Rey" and Maria "Lupe" Vela; siblings, Randy Vela and Reynaldo Vela Jr., and many nieces and nephews.
FUNERAL SERVICE: A Funeral Service will take place at 1:00 p.m. Tuesday, June 8, 2021 at the Old Town Christian Outreach, 600 Gratiot Ave., Saginaw, MI 48602. Pastor Don Dinninger will officiate. In keeping with Roland's wishes, cremation will follow the service.
VISITATION: Family and friends will gather at the Old Town Christian Outreach, 600 Gratiot Ave., on Tuesday, June 8, 2021 from 11:00 a.m. until the time of service at 1:00 p.m.
MEMORIALS: In lieu of flowers, those planning an expression of sympathy may wish to consider memorials to the wishes of the family, c/o Ruth Vela.
Deisler Funeral Home is honored to serve the Vela family. Please share your thoughts and memories with the family at the church or through www.deislerfuneralhome.com.