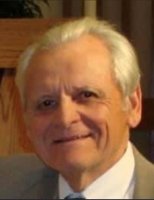 Patrick Dale "Pat" Vollmer
Vollmer, Patrick D. "Pat"
Saginaw, Michigan
Beloved husband, father, grandfather, brother and friend passed away peacefully, with his family by his side on Sunday, May 9, 2021 at Covenant HealthCare - Cooper. He was 72 years old. Patrick Dale Vollmer was born on May 25, 1948 in Saginaw, Michigan to the late Walter J. and Elizabeth (Lonsway) Vollmer. He was a proud 1966 graduate of St. Andrew Catholic High School. Upon graduation, he attended Delta College receiving his Associate's Degree in Criminal Justice. Pat then worked as a police officer for the City of Saginaw for seven years. He met the love of his life, Maryanne Cozzolino, and they were married on December 3, 1970 in Saginaw. Pat worked throughout the Saginaw area his whole life, but enjoyed most the art of selling and wholesaling cars. Pat was a faithful member of St. Thomas Aquinas Catholic Church. In his free time, Pat enjoyed being outdoors in the pool, traveling, golfing, camping, attending oldies concerts, playing his guitar and spending time with his family. In the fall, he proudly supported Notre Dame and Michigan State football, coaching from his living room.
His loving, caring and calm spirit will be deeply missed by all who knew him including his wife, Maryanne; children: Brian Vollmer, Christopher (Clare) Vollmer and Tamara Vollmer; grandchildren: Spencer Vollmer, Michael and Robert Patrick Vollmer; two sisters: Mary Ann (Norm) Stange and Constance Dobis; in-laws, Thomas, Anthony (Bonnie), Salvatore (Robin), William (Kim) and John (Connie) Cozzolino, Grace Ann (Raymond) Eddy, Ann Louise Pessler, Rose Marie (Alan) Smith and Patricia Chamberlain; and his faithful companion, Lola. Also surviving are many nieces, nephews, cousins, extended family and dear friends.
Pat was preceded in death by his parents; brother, Walter A. "Bud" Vollmer; mother-in-law and father-in-law, Anthony and Janice Cozzolino; brother-in-law, Joseph Cozzolino.
FUNERAL: A Funeral Liturgy will take place at 10:30 a.m. on Saturday, May 22, 2021 at the St. Thomas Aquinas Catholic Church, 5376 State St., Saginaw. Rev. Fr. Richard A. Bokinskie will officiate. Following Pat's wishes cremation will follow. In keeping with mandated ordinances face masks will be required, social distancing observed and limitations on attendance.
VISITATION: Friends are welcome to visit with the family at the Deisler Funeral Home, 2233 Hemmeter Rd. (off State) on Friday, May 21, 2021 from 2:00 p.m. until 7:00 p.m.; and at the church on Saturday from 9:30 a.m. until the time of service at 10:30 a.m.
MEMORIALS: In lieu of flowers, those planning an expression of sympathy may wish to consider memorials to St. Thomas Aquinas Catholic Church or Emmaus House. Please share your thoughts and memories with the family at the funeral home, church or through www.deislerfuneralhome.com.